Water has fascinated me since I was a little kid. Both sets of grandparents lived on the lake and I LOVED going to visit them.
Even as a little tyke I was an early riser. I would be up at dawn fishing off the dock and watching the loons glide by. In the afternoon I would be swimming with my cousins, sailing the Sunfish around the cove and hitting golf balls (then retrieving them!) off the beach.
I built my first house on the lake and became a tournament water skier…and had a really understanding summer boss. When the weather was windy and bad for skiing, I showed up at the job site at 7am. But if there was glass, I showed up at 11:00.
Life changed, though, and I found myself immersed in the whitewater world. I became a whitewater kayaker, a raft guide, recreation guide, and met my lovely bride, Julie. My focus shifted from lakes to rivers.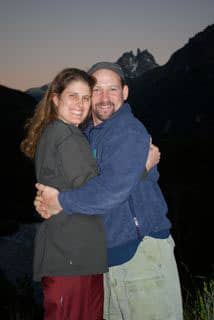 So now we have a bus that we are converting. It's been a lot of work, for sure, but enjoyable. I'm looking forward to SAVORING long road trips rather than itching to be there. Then spending the day paddling a new stretch of river to retire back to the bus, most likely with some new friends, to enjoy a celebratory meal and beverages.
Stay tuned as we share our experiences on the water, in the bus, and on the road with all of you!
Thanks for stopping by…see you on the river soon!
Ted and Julie
---
---